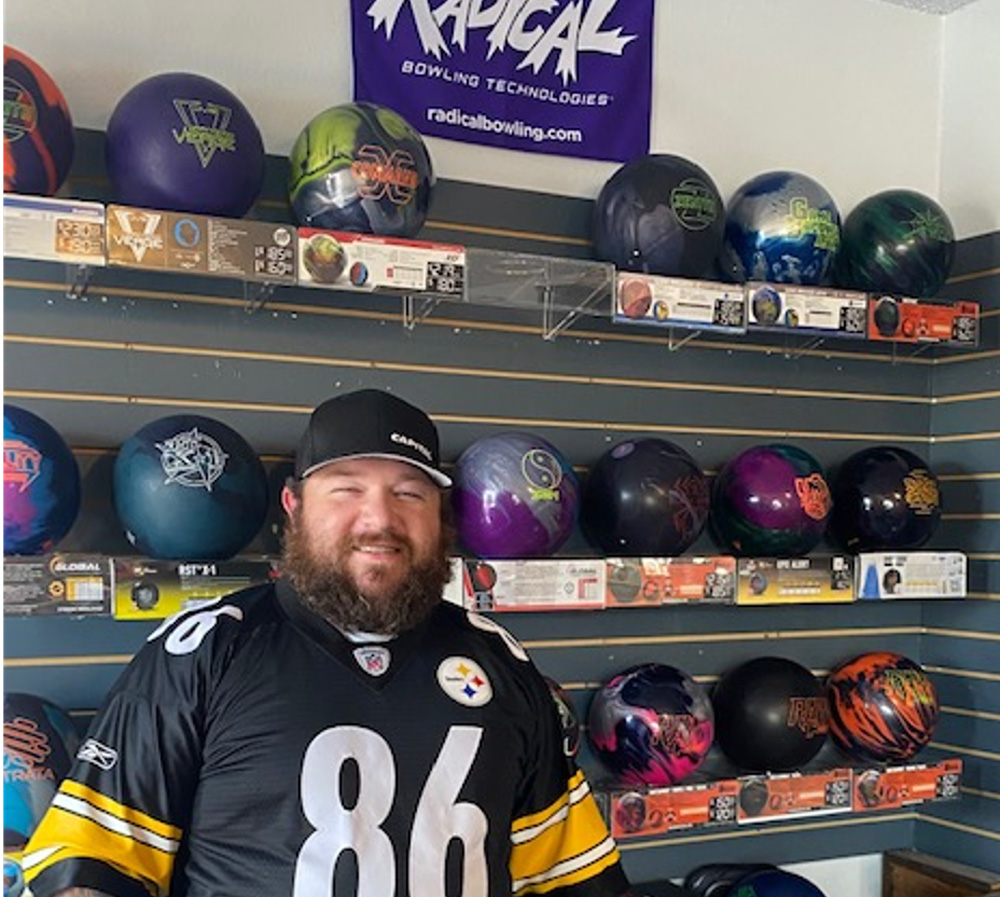 Josh Adams – Meridian Lanes Pro Shop Manager
Josh has been with Meridian Lanes since it reopened the pro-shop August of 2020.  
To say that bowling has been Josh's passion is an understatement.  Born and raised in Boise, Josh started bowling at age 8 after his friend suggested they join a local league.  It was love from then on.  Josh was so competitive that he landed a bowling scholarship and attended University of Pikeville in Eastern Kentucky.  With that educational opportunity also came bowling competition, tournament wins, extensive travel and (I'm sorry Roger) multiple 300 games bowled.  
After college Josh returned to the Boise area and also works in lumber sales locally.  The jersey may have given it away, he is a loyal and die hard Steelers fanatic!  Josh is absolutely smitten with his 5 year old son, and he spends any of his free time with him.  Just recently they both returned from a family reunion in Florida where they enjoyed fun in the sun and took time out to ride jet-skis and get some fishing in on the lake.  Josh's son got to meet his Grandfather for the first time and the family reunion was the highlight of both of their summer adventures!  Josh said he would love to travel more, next destination unknown.
Why Meridian Lanes and Josh's answer seems to ring true to all on the team, "It's the customers.  They are amazing, I truly enjoy coming to the shop, catching up, helping them out.  Really, Meridian Lanes is the best!!!"  
If you need to purchase a ball or bag or shoes or accessories, stop by and see Josh.  Also don't forget all of the services offered, plugging, re-drilling, detoxing and any special orders to help you get what you need to succeed.  Josh knows his stuff!  He is a straight shooter that is not here to up-sell you, but help educate you, support you and serve the customer the best way possible.  Late afternoons and evenings is when you will most likely find Josh manning the shop, he would love to meet you, maybe even talk Steelers Football. 
Thank you for your hard work Josh!  We appreciate you!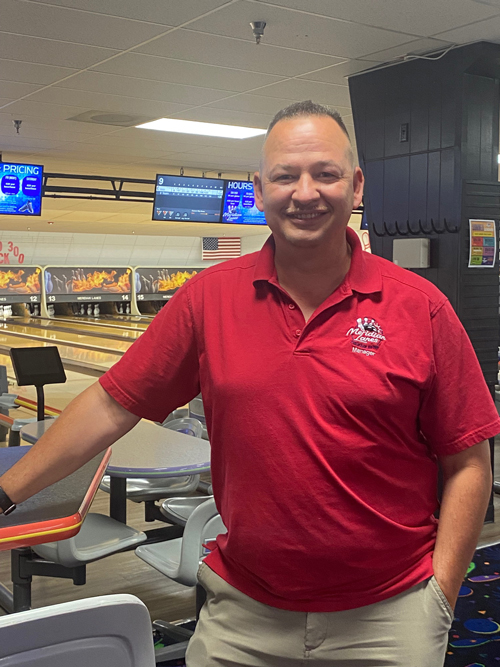 Roger Hare –

General Manager of Meridian Bowling Lanes
Meet Roger Hare, General Manager of Meridian Bowling Lanes.  If visiting the lanes you may see him at the front desk, behind the snack bar, resetting a pin or two, or chatting with the many regulars and league players that enjoy Roger's desire to give everyone that comes into MBL the best experience! 
The haircut may have given it away, Roger recently retired from the Army after an incredible 34 years of service.  An avid bowler for the past 15 years Roger has traveled and competed in many tournaments throughout the Western States and even participated in Nationals.  Roger has bowled 5 "299" games but the perfect "300" has eluded him, but not for long he teases!!! 
Little known fact is that Roger is an avid woodworker.  He built a 10 foot scale, working, ferris wheel, this last Christmas, what focus and detail to create something so magnificent.  The same focus and detail he brings each and every day to MBL.  What is Roger's favorite part of working at MBL? He says, "it's simple, it's the customers.  They are all unique and fun and they inspire me.  I truly enjoy being a part of the MBL family and love what I do!" 
Thank you Roger, we love you too!!!  Come on in, say "hi" to Roger, he would love to meet you!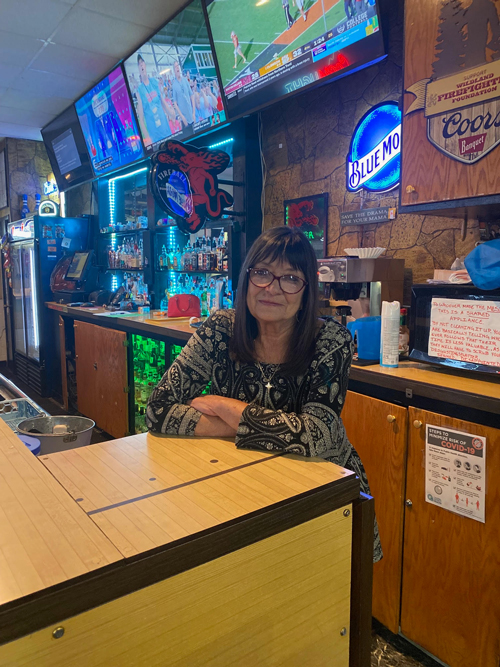 Chris Maccarillo, Bar Manager, Strikers Lounge at Meridian Bowling Lanes
Meet Chris Maccarillo.  Chris has been with Strikers Lounge at Meridian Bowling Lanes for more than 26 years.
When you ask Chris what has kept her at Strikers she quickly answers, "her customers" she even goes further to say that many have become friends and like family. Chris loves what she does!
Originally from Hailey, ID Chris has been in the Treasure Valley for the last 30 years and has started making plans to move to part time to spend more time with her son and his family. Retirement is not in her vocabulary and Chris said she will always be a part of Strikers. We agree Chris – you are Strikers and we look forward to seeing you behind the bar, telling jokes and watching the customers send in the love and cheers to you in return!
Chris loves to play darts and quarter poker and is absolutely in love with her 1 year old Maltese-Shitzu name Stella.
Ask her to make a lemon drop – she may frown, but ever heard of The Deadwood? Chris proudly designed and loves to serve the vodka, raspberry pucker, sour and 7-up cocktail!
If you are by Meridian Lanes, come in the lounge to say "hi" to Chris, check out the full bar and maybe throw some darts with some friends!