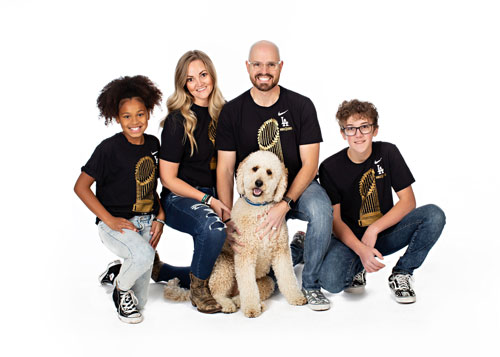 Andy and Shonda Propst – Owners 
In October 2017, after the same ownership for 59 years, local couple, Andy and Shonda Propst, purchased Meridian Lanes. Read the news articles here:
News Article From October 2017
Enjoy the Q&A with Andy and Shonda
Why did you buy Meridian Bowling Lanes?
S – Because Andy is crazy 😉 Andy should probably answer this one.
A – The deal fell into our lap. We loved what it meant to the community and we wanted to make sure we kept it that way.
Give us some Propst Family background.
S – We were both born in Boise, Idaho. Andy moved to Oregon around the age of 10. And I graduated from Borah High School. After we married, we lived in Oregon for about 10 years. We then moved back to our home state to raise our family. Outside of MBL, our lives are busy with our two kids, our son Sam who is 14, and our daughter Brooklyn, who is 11. Andy is also the CDO of HomeRiver Group and I keep super busy balancing all of the family commitments and I also sub teach for our school district. As a family we love to travel, play with our dog (a 3 year old goldendoodle named Stanley), go four-wheeling and dirt biking, playing soccer, listening to music, and definitely enjoy spending time with our large extended family.
Favorite food at the snack bar?
S- Bacon Kegler. Best. Breakfast. Sandwich. Ever.
A – Striker's Club, hands down
Favorite drink at the bar?
S – lol, we don't drink. So, probably club soda with cranberry juice haha
A – Diet Dr Pepper
Bowled a 300?
S – Andy is a decent bowler, but the rest of us…not so much.
A – I still stink but I am much better than I was when I purchased MBL. I bowled a clean game back in December of 2021. My best score ever is 242.
What is one or two of the coolest things that you love about owning Meridian Lanes?.
S – The people and the culture.
A – So many new friends
What is one of the hardest things about owning MBL?
S – Surviving the covid shutdown. Scariest time ever but we did it!
A – What Shonda said
What is the funniest thing that has happened at MBL?
A – Probably all the people driving through the south wall of the center and throwing cinderblocks onto the lanes.
What sets you and MBL apart from the rest?
A – The nostalgia. Our food. Our culture. Our staff. Our basement!!!
What have you revised/revitalized/changed at the lanes since owning?
A – Where do I begin? New system, new TV's, new flooring, new paint, new party room, new roof, new parking lot, new Brunswick Crown pins, new masking units, and continuing to find ways to improve.
What do you wish you could change?
S – I wish we had room for more open bowling, as the demand for this has significantly increased.
A – We would also love more space to have a proper place for people to just take advantage of our amazing food while eating it in a restaurant setting.
What are your future plans with MBL?
A – Bar renovation maybe.
What do you love just the way it is?
S – It is time tested. People love it and we love it.
A – We love the retro vibe.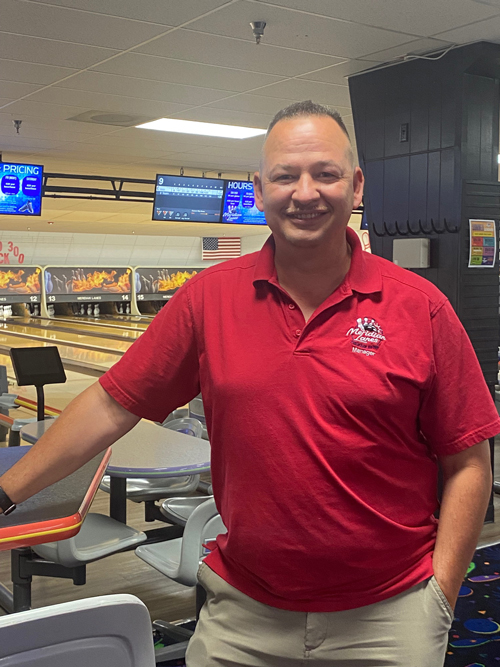 Roger Hare – General Manager of Meridian Bowling Lanes
Meet Roger Hare, General Manager of Meridian Bowling Lanes.  If visiting the lanes you may see him at the front desk, behind the snack bar, resetting a pin or two, or chatting with the many regulars and league players that enjoy Roger's desire to give everyone that comes into MBL the best experience! 
The haircut may have given it away, Roger recently retired from the Army after an incredible 34 years of service.  An avid bowler for the past 15 years Roger has traveled and competed in many tournaments throughout the Western States and even participated in Nationals.  Roger has bowled 5 "299" games but the perfect "300" has eluded him, but not for long he teases!!! 
Little known fact is that Roger is an avid woodworker.  He built a 10 foot scale, working, ferris wheel, this last Christmas, what focus and detail to create something so magnificent.  The same focus and detail he brings each and every day to MBL.  What is Roger's favorite part of working at MBL? He says, "it's simple, it's the customers.  They are all unique and fun and they inspire me.  I truly enjoy being a part of the MBL family and love what I do!" 
Thank you Roger, we love you too!!!  Come on in, say "hi" to Roger, he would love to meet you!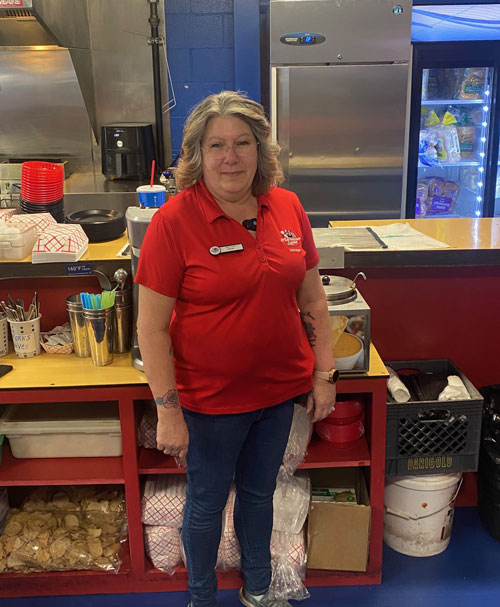 Alisa Hare – Snack Bar and Front Desk Manager
Meet Alisa Hare, The last name may sound familiar and yes she is married to General Manager Roger Hare, but get the timing straight, Alisa was the first Hare to be working at Meridian Bowling Lanes! Alisa has been with Meridian Lanes for the last 6 years and proudly states she will be here until it is time for her to retire.
Originally born in Kansas and been in Kuna, Idaho for the last 16 years, Alisa has been a military wife beside Roger for the last 34 years and here they are joined again, side by side, proudly serving Meridian Lanes "The best bowling alley in all of the Treasure Valley", Alisa chimes in! Alisa's passion for people shines through and you can hear the care in her voice when she talks about meeting new bowlers, regulars and her favorite, all of the seniors in the senior league. Alisa's grill skills are second to none, have you had their burger? She enjoys making the homemade taco soup served weekly and the most popular items ordered, can you guess? Chicken strips and fries!
Alisa is an avid bowler and has bowled for the past 15 years and she participates in the Sunday League – She thinks her team keeps her for her handicap, but you can bet she can pick up a spare or crash a strike or two! Alisa and Roger have two children and 6 grandchildren (5 granddaughters and 1 grandson) and they enjoy spending time with them. They could be camping and fishing at Cascade, which is where she envisions where her and Roger will retire. Alisa is known as someone with tremendous commitment, fortitude and strength. You can see that with the joy she brings to her jobs at MBL and love and care in the food she proudly prepares and serves to those new and old at Meridian Bowling Lanes. Pop on in, see her at the desk or behind the grill, she would love for you to say "hi".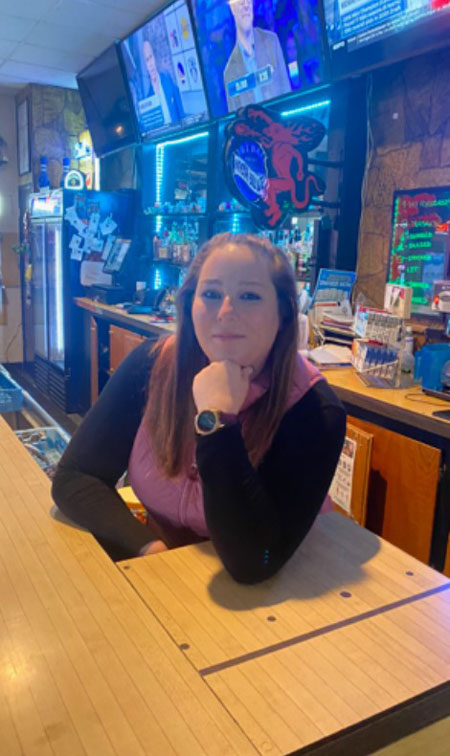 Alex Sager, Bar Manager, Strikers Lounge at Meridian Bowling Lanes
Welcome to Alex, the new Bar Manager at Strikers Lounge in Meridian Lanes. Alex is a familiar face, having been with the Meridian Lanes Family for over 10 years. Alex has worked at the snack bar and then became a Bar Supervisor and now Bar Manager. Upon Chris Maccarillo's retirement earlier this month, Alex's dedication and hard work earned this promotion. Chris will continue to serve part time and Alex is so grateful for the time under Chris, to learn, to build rapport with customers and co-workers and now to have the opportunity
to lead!
From Las Vegas, Alex has called Idaho home for the last 19 years and is blessed to have a 10 year old daughter that she enjoys spending time baking and traveling with. Most recently they went to Hawaii and actually swam with the sharks!! Keep an eye out for Shark
Week at Strikers Lounge, Alex likes mouths with big, sharp teeth? Maybe that is why she also has an obsession with T-Rexes! .
A self-proclaimed control freak, she is always the "party planner" and often called "The Cruise Director". Colors that bring her smiles, maroon, burgundy and plum. Don't bring anything lavender in color or smell, none of that here!! Her team? Steelers, period.  Did you see Alex at the store or an event and she didn't wave when you yelled her name? She has a twin sister and sometimes that can be quite a hoot!
Not much gets past her, but in her early years she took a bill and felt that it may have been counterfeit and called the Meridian PD to come check it out. While all her co-workers were in on the prank, the officer straight-faced that now Alex was the one that was going to get in trouble. After a few minutes and some cracked smiles she caught on! It was a good laugh and the bill turned out to be valid.
What is Alex most excited about now managing Strikers? She has plans for updating, modernizing, new drink ideas and specials and a stronger social media connection. Strikers Lounge as Alex smiles, "Is my second home", "the customers are my family". Meridian Lanes Team Members all echo that these relationships keep them here.
Welcome Alex, we are so excited to have you at the helm! Stop in and say "hi" to Alex, she can make your favorite cocktail and share a story or two.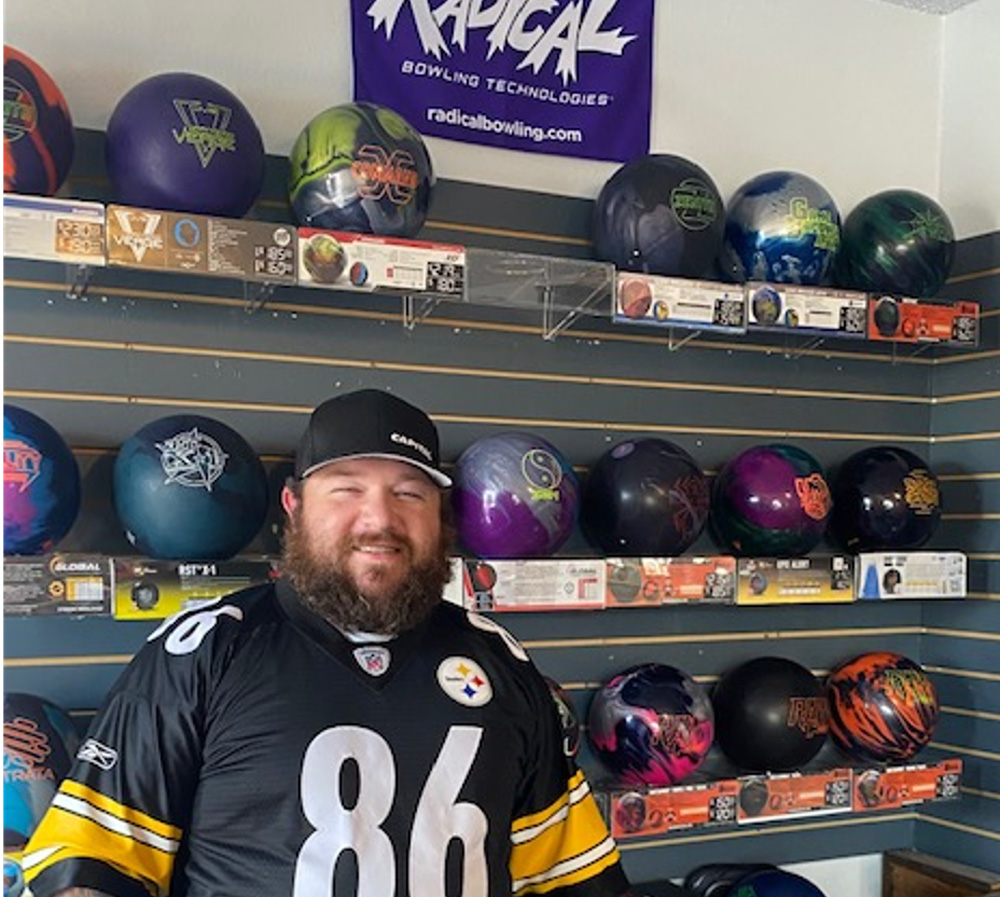 Josh Adams – Meridian Lanes Pro Shop Manager
Josh has been with Meridian Lanes since it reopened the pro-shop August of 2020.  
To say that bowling has been Josh's passion is an understatement.  Born and raised in Boise, Josh started bowling at age 8 after his friend suggested they join a local league.  It was love from then on.  Josh was so competitive that he landed a bowling scholarship and attended University of Pikeville in Eastern Kentucky.  With that educational opportunity also came bowling competition, tournament wins, extensive travel and (I'm sorry Roger) multiple 300 games bowled.  
After college Josh returned to the Boise area and also works in lumber sales locally.  The jersey may have given it away, he is a loyal and die hard Steelers fanatic!  Josh is absolutely smitten with his 5 year old son, and he spends any of his free time with him.  Just recently they both returned from a family reunion in Florida where they enjoyed fun in the sun and took time out to ride jet-skis and get some fishing in on the lake.  Josh's son got to meet his Grandfather for the first time and the family reunion was the highlight of both of their summer adventures!  Josh said he would love to travel more, next destination unknown.
Why Meridian Lanes and Josh's answer seems to ring true to all on the team, "It's the customers.  They are amazing, I truly enjoy coming to the shop, catching up, helping them out.  Really, Meridian Lanes is the best!!!"  
If you need to purchase a ball or bag or shoes or accessories, stop by and see Josh.  Also don't forget all of the services offered, plugging, re-drilling, detoxing and any special orders to help you get what you need to succeed.  Josh knows his stuff!  He is a straight shooter that is not here to up-sell you, but help educate you, support you and serve the customer the best way possible.  Late afternoons and evenings is when you will most likely find Josh manning the shop, he would love to meet you, maybe even talk Steelers Football. 
Thank you for your hard work Josh!  We appreciate you!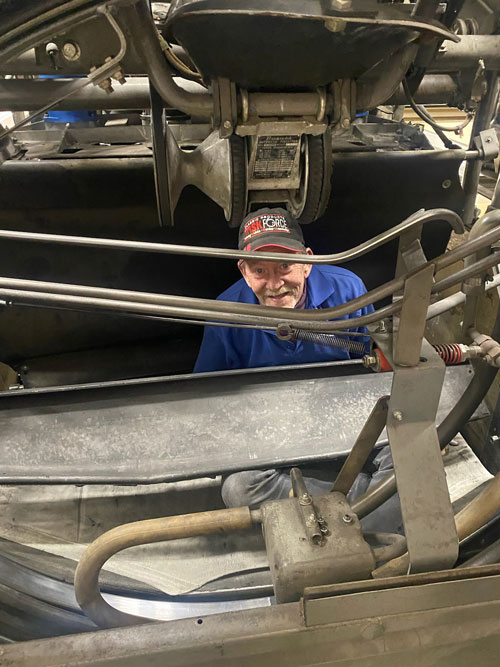 Tim Condreay, Maintenance Technician for Meridian Bowling Lanes
Tim has been with Meridian Lanes for the last 14 years. Hailing from Grant, Nebraska and raised on a farm, Tim has seen it or done it at least once – he swears! Tim joined the Army out of school and traveled the world, including Sweden where his relatives are from. While in the Army Tim spent a lot of time in Germany where the food, the people and scenery were a highlight of his military tour. Upon returning home and continuing in the National Guard, Tim was a volunteer firefighter and continued to be an avid bowler, something he started when he was only 10 years old!
Moving to Idaho in 2005 to be close to family Tim went right to the heavy stuff. Iron work that is. With a desire to have more of a variety of tasks, challenges and ability to put his mechanical knowledge to work Tim found a home with Meridian Lanes. Tim loves being on the move and keeping his mind occupied. You may find him behind the lanes removing a pin jam, fixing a broken snack bar machine, running to pick up the liquor order for the bar, or anything else facilities related. The lane mechanics are from the 1960's and 1970's – and you may think modern is better, but not Tim. Belts, bearings and gears – Tim says, "have the right people keep 'em greased, oiled and properly repaired they could just run forever."
A MBL memory that carries some scars for Tim is on a Monday in 2012, MLK Day, between lanes 24 & 25 while reaching in to take two pins out of a bucket the reset button was pushed and the machine grabbed and broke his arm. After surgery he has pins and rods in his forearm that he will keep forever.
Tim has a passion for bowling and golf. With a 200 average and two 300's under his belt he is looking forward to competing in 3 local tournaments coming up. Tim also recently traveled to Lincoln City, OR, on the coast to play some golf. The "bionic" arm, Tim jokes, may have improved both bowling and golf! His favorite meal is good ol' meat and potatoes, but make it a Filet Mignon please. A special treat for Tim is when he can find super good pasta, they didn't have that on the farm!
The "R" word brings a smile to Tim's face. He is looking forward to partially retiring in the near future, getting more time for travel, golfing and bowling. Tim recently took on an apprentice and hopes when retirement time comes he can scale back, but has no intention of leaving all together. MBL is family and a home-away-from-home!
Don't let the grease dotted on his brow, or the gruff exterior scare you off (it's meant to scare off the slackers) Tim is a genuine, straightforward part of the MBL Team.. Say "hi" or "thanks" when he sends your jammed ball back, or even cheer him on at the next tournament – Maybe ask to join him on the golf course, when it warms up just a tiny bit more!!!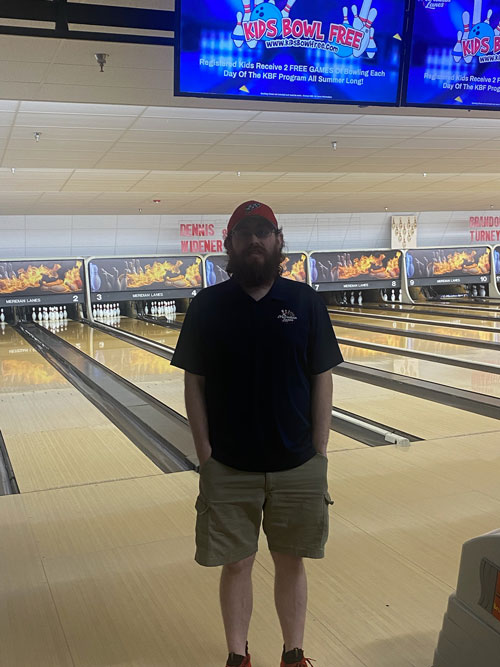 Shon Newberry – Front Desk Supervisor
Meet Shon, Meridian Lanes Front Desk Supervisor.  Shon describes himself as a full coverage employee and a jack of all trades.  He is here, he is there, he is everywhere!!  Shon has been with Meridian Lanes as an employee since October 2011, but Shon is actually a 3rd generation Meridian Lanes loyal!
His grandparents and parents bowled at Meridian lanes over many decades!  Shon grew up in Meridian and has one younger brother.   They are bowling siblings and Shon graciously gives credit to his "southpaw" brother, "he is better, he has thrown upwards of 15 "300" games, I've bowled just one perfect game".  Shon and his brother are looking forward to playing with Roger Hare Senior and Junior in the Team of the Year Tournament in the near future.  When asked what is something funny that has happened while at MBL Shon asserts, "I'm the prankster, no one pranks me" – is that a challenge……anyone?   Shon loves playing street hockey and video games in his free time and is a big soccer and ice hockey fan.  Liverpool and DC Capitals being "his" teams!  An animal lover, Shon loves dogs, especially English Sheep dogs and has a cat named "Riley".
What does Shon love about Meridian Lanes? The regulars.  Monday, Senior League is a highlight of the week, everyone is chatty and tells great stories.  Everyone knows everyone else and many have seen Shon grow up and into the dedicated, thoughtful and diligent MBL employee.  What you might find him ordering from the snack bar is the mushroom burger and after hours maybe a Whiskey Sour.  Shon takes pride in being able to help grow the sport of bowling, and has seen many positives in the years.  Usually lanes are lonely in the summertime but since the pandemic Shon has seen the lanes full and continues to see the base customers grow.  The community feeling of MBL and the culture keeps Shon dedicated to being a part of the MBL Team.  We are lucky to have Shon onboard.  Stop by and say "hi" to Shon, catch up on some tournament news, upcoming leagues or some chit-chat on hockey.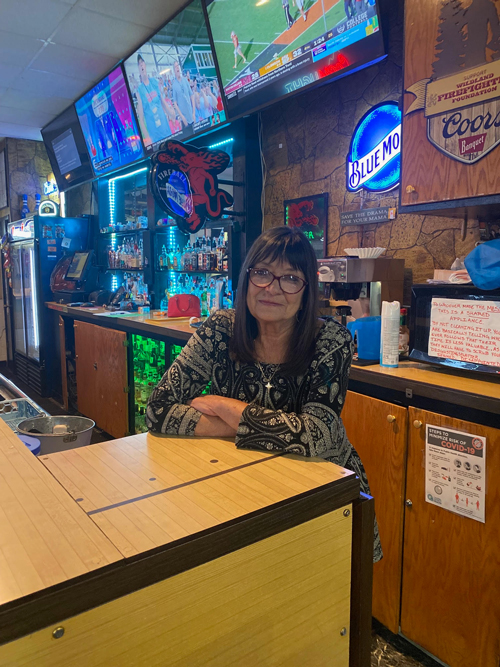 In Memoriam 
Chris Maccarillo, Strikes Lounge at Meridian Bowling Lanes
Chris passed away in March of 2022 surrounded by her family after a sudden illness. Originally from Hailey, ID Chris had been in the Treasure Valley for the last 30 years and loved spending time with her family and her dog Stella.  Chris loved Strikers Lounge and was instrumental in bringing darts to Strikers and creating the growth of the dart leagues. Chris recently retired from full-time bartending with Strikers after more than 26 years. Her humor and sincere care for every customer will be deeply missed.